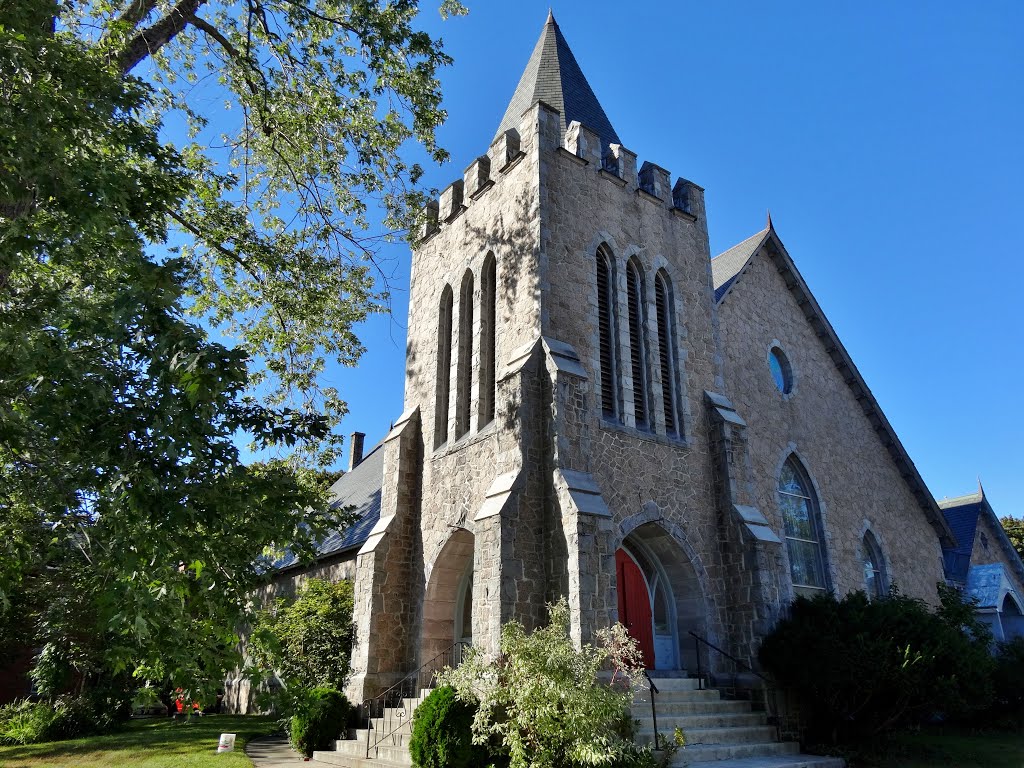 1906-1907, Gothic Revival | 4 Brentwood Street, Portland | Nominated to Places in Peril in 2017
SIGNIFICANCE
The Dunn Memorial Church, later renamed Central Square Baptist Church, honors the Rev. A. T. Dunn, D.D. who helped to organize the congregation just before his death in 1904. Now known as the Deering Center Community Church, it is one of several religious and educational buildings along Stevens Avenue in Portland. One of the few buildings in Portland designed by noted Bangor architect Victor Hodgins, the church features pink granite stonework on the façade, a decorative bell tower, and a Monson slate roof. The cornerstone of the church was laid in 1905 and the church was completed in 1907.
The building is an architecturally significant structure and well known visual landmark on Stevens Avenue at the corner of Brentwood Street and was determined eligible for the National Register of Historic Places in 2005.
THREAT
Over the years, improper use of a modern Portland cement mortar instead of a softer historic lime mortar to repoint the historic masonry has led to decades of structural problems. With each passing winter, the freeze and thaw cycles allowed accumulated moisture to push out the granite veneer. Now, the building faces extensive damage and an estimated $1.5 million is needed to repair the iconic bell tower.
Repair costs for the bell tower are not within the budget of the congregation. Recognizing the potential for further damage to the building and concern for the safety of passing pedestrians led the church to install a fence to keep people away from the stone tower.
OPPORTUNITY
The church has an active congregation and is an important community center in the Deering Center neighborhood.
1. By increasing awareness of the building's historic importance and the need for structural repairs, the church could make a broader appeal for funds;
2. While repair costs are a major challenge for the congregation, events or activities in partnership with other community organizations could help raise the funds toward the repair of the bell tower and recognize the value of preserving this community landmark;
3. On a larger scale, the church could explore a partnership with a local developer to add housing or further development to the site as a way to fund the tower repair.
Stay up to date
Join our mailing list and keep updated about Places in Peril, advocacy issues, education programs, special tours, and upcoming events.