Portland Motor Sales (U-Haul Building)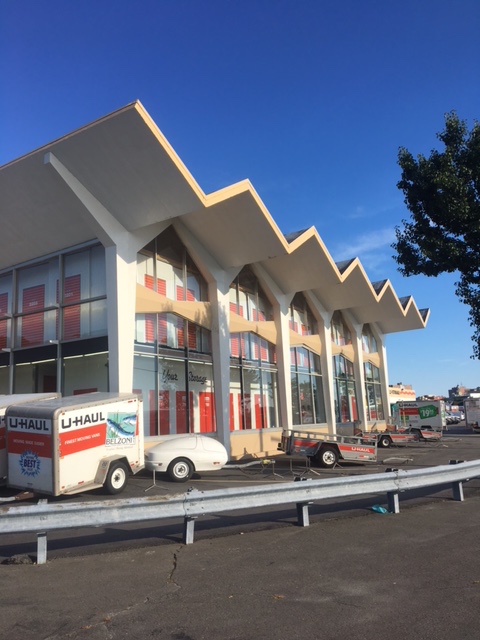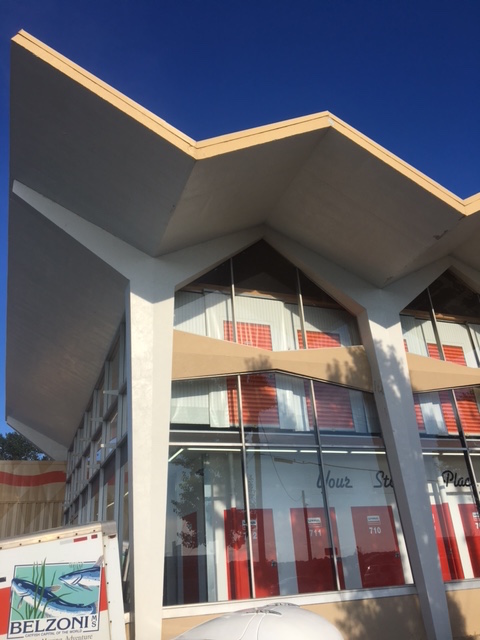 1963, Mid-Century Modern | 411 Marginal Way, Portland | Nominated to Places in Peril in 2017
SIGNIFICANCE
Currently the home of U-Haul Moving and Storage, 411 Marginal Way was formerly the home of Portland Motor Sales. The ultra-modern building was a showpiece for Maine's then largest Ford dealer when it opened in 1963. Now more than 50 years later, it is one of Portland's most well-known Mid-Century Modern buildings with its iconic folded roof as a character defining feature of its style.
The building is located in East Bayside, a former industrial neighborhood that is rapidly evolving as a destination for craft brewers and distillers in Portland's food scene. It is also a neighborhood that has seen a recent increase in residential development, helping to restore its residential density.
THREAT
Similar to other Mid-Century buildings across the country that are underappreciated and vulnerable to redevelopment, the former Portland Motor Sales building may be perceived as expendable, unattractive, or unworthy of preservation.
The building is not a designated local landmark, nor is it located in a historic district or listed in the National Register. There have been no surveys of historic resources in the East Bayside neighborhood and there is no protection from demolition or inappropriate alterations.
The building is located on a two-acre lot that is primarily used for commercial parking and storage. The former Portland Motor Sales building is located in the B5-Zone. The City identifies the zone as an area of large underdeveloped lots with great potential for denser development. To encourage denser development, the zone has a maximum building height of 65-feet that was recently expanded to 80-feet if affordable housing is part of any re-development. Land values on the peninsula of Portland are rising quickly, adding to the development pressure of seemingly under-utilized sites like this one.
OPPORTUNITY
The unique Portland Motor Sales building has been a visual landmark on Marginal Way for more than 50 years. Its distinctive geometric roof, indicative of Mid-Century design and reflecting the auto-centric development of 1960s along Marginal Way, is one of a few local examples of this type and style. Landmarks supports the following opportunities:
1. Designating the historic automobile showroom as a local landmark, which would protect it from demolition or inappropriate changes, while allowing for compatible new development on the site.
2. Encouraging potential future redevelopment of the site that would make the mid-century modern style a focal point.
3. Exploring its listing on the National Register of Historic Places, which could provide access to tax credits for its repair and renovation.
4. In general, recognizing local examples of mid-century modern architecture that would help encourage preservation of other significant buildings of this style and era.
Stay in Touch
Join our mailing list and keep updated about Places in Peril, advocacy issues, education programs, special tours, and upcoming events.