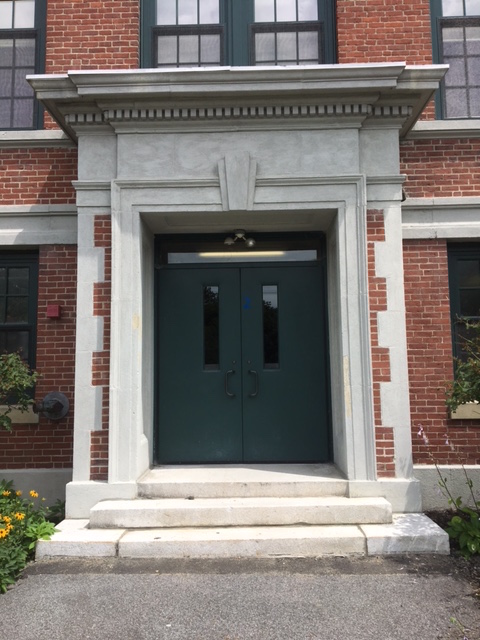 1923-1924, Beaux Arts | 240 Ocean Street, South Portland | Nominated to Places in Peril in 2017
SIGNIFICANCE
The Mahoney Middle School is located on a 15-acre lot at 240 Ocean Street in South Portland, Maine. It was constructed in 1923-24 and was originally the South Portland High School. It became the city's Junior High School in the 1950s and later, the Mahoney Middle School. Named after Daniel J. Mahoney, a long-time principal at South Portland High, the Mahoney Middle School is a brick, three-story, 94,000 square foot U-shaped building expressed in the Beaux Arts Style. Some of the character-defining features of the Mahoney Middle School are its symmetrical window pattern, quarter height belt course, simple entablature openings, Doric pilasters, and flat roof with detailed parapet.
The building sits at the corner of a major transportation route into parts of South Portland and Cape Elizabeth. It was designed by the noted Maine architectural firm Miller & Mayo, and is a showcase for the Beaux Arts Style of architecture, a style inspired by classical models and a style preferred for important civic buildings. The historic school was determined eligible for listing in the National Register of Historic Places in 2008.
THREAT
The South Portland school district has received state funding to renovate Mahoney, replace Mahoney or consolidate its two middle schools. Building analysis is underway to review these options, which might include altering the existing structure to fit the needs of the district or vacating the historic building. Mahoney building reports show significant structural, health, safety, mechanical, and handicap-access deficiencies, along with asbestos materials throughout the building. After a consultant concludes its analysis of possible sites for a new consolidated school and a cost analysis to determine whether to renovate or build new, the city will hold public forums and a community-wide vote before determining the future of Mahoney School.
Depending on the consultant recommendations, the future of the building's character defining elements and even the building itself is at risk. No preservation protections exist on the building to guide future additions or ensure rehabilitation.
OPPORTUNITY
A significant historic building, both for its architectural character and its community associations, the Mahoney Middle School building should be preserved.
1. Ideally, Mahoney can be reused as a school, a preferred outcome for the building because local schools are proven to contribute to and enhance neighborhood vitality;
2. Otherwise, a compatible civic use, such as for a City Hall or other community purpose, should be explored, to maintain the integrity of the building and its location at a nexus of public buildings in South Portland;
3. Its eligibility for the National Register allows for rehabilitation with historic tax credits, preserving its character-defining architectural features.
4. Any future use or redevelopment should stay true to the original architectural design of Miller & Mayo to keep this building a showpiece, promote appreciation of its architecture, and support potential new additions that are compatible with the historic building.
Stay up to date
Join our mailing list and keep updated about Places in Peril, advocacy issues, education programs, special tours, and upcoming events.