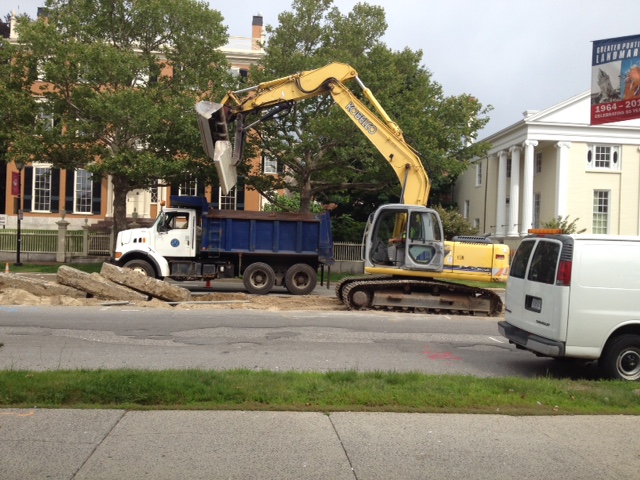 Spring Street, Portland, Maine
The Issue
Conceived as part of a larger urban renewal plan for the downtown in the late 1960s, the Spring Street Arterial is a half-mile long stretch of highway in the middle of the City that necessitated the removal of numerous historic resources. The continuation of the highway East and West was abandoned due to pressure from the nascent preservation movement. The central median and high speed traffic form a strong physical barrier between downtown neighborhoods and the uninviting concrete landscape is barren and hostile to pedestrians.
Our Position
Landmarks played an active role in halting the Spring Street Arterial expansion in the 1970s. Now out of context, the highway remnant mainly provides access to large parking lots and the recently renovated Cumberland County Civic Center.
Landmarks convened a group of interested parties in 2012 to discuss the future of the Spring Street Arterial. The recommendations of this group, and anticipation of a planned repaving of the road by the Maine Department of Transportation in 2015, inspired the City to commission the Spring Street-Free Street Area Streetscape Plan to redevelop the arterial. Landmarks supports the City's plan to revert to a two lane street, increase pedestrian connectivity, and free up land for open space and new development on the South side of the street. As part of the street work, Landmarks is working with the City and community partners to develop a public outdoor exhibit and gathering place at the corner of Spring and High Street, adjacent to our office at 93 High Street.
Update: In 2015 the central median was removed and some portions of the street were narrows to accomodate street crossings. Budget constraints have limited full implementation of the plan.
Press
Quick Links
What You Can Do
Learn more about the City's Spring Street - Free Street Area Streetscape Plan
Encourage City Councilors to support funding to complete the streetscape plan
Support Landmarks' advocacy efforts
Sign up to stay informed about advocacy efforts, educational programs, and upcoming events.